Other Products
In addition to the full line of industry-leading Raynor Garage Door products, Helton Overhead Door Sales also specializes in the sale and service of dock equipment, dock shelters, high-speed fabric doors, and carriage house doors.

Sommer Synoris Electric Operators
Dock Equipment by Blue Giant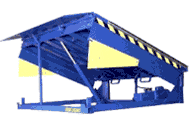 From the first day BLUE GIANT® opened its doors in 1963, their basic philosophy has remained unchanged: to provide customers with innovative material handling solutions by designing and manufacturing a wide range of rugged and dependable loading dock equipment and industrial trucks. Helton Overhead Door Sales is proud to service and sell the full range of Blue Giant products.
Dock Shelters by Chalfant Manufacturing
Chalfant Truck Dock Shelters provide effective year-round environmental control, protection, sealing and safety at your truck dock loading and unloading areas. Chalfant's Series 700, their most popular model, is designed as a tunnel for the truck providing full access to the rear of the trailer. The side and top curtains flex inward with a wiping action, forming a seal. Strong steel bumpers on both series protect the shelter.
Chalfant Rail Dock Shelters provide excellent protection for material handling operations at docks where rail cars are loaded or unloaded. Designed for either platform or non-platform docks, when extended, the unit presses snugly against the side of the car by spring action. When not in use, it is retracted against the face of the building.
For more information on Chalfant dock shelters, click on the link above to visit the manufacturer's Web site.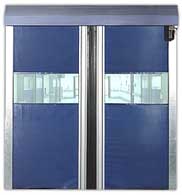 Albany Door Systems is the manufacturer of Rapid Roll & M&I high-speed doors for over 25 years. Albany doors can be found in service 24 hours a day, seven days a week all over the world. These doors have performed millions of cycles in all types of industrial applications and extreme environments with very minimal maintenance. Rapid Roll doors pay for themselves in reduced maintenance costs and energy savings.
In addition to industry-leading Raynor garage doors, Helton Overhead Door Sales also offers custom-built carriage style doors. For a unique design and appearance, our custom carriage doors may be just what you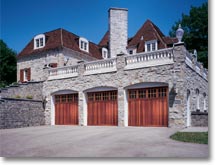 have been looking for to add a distinctive touch to your new or existing home.
Custom carriage style doors are designed by the homeowner and built to your specifications. Starting with an insulated wood door blank, our carpenters then apply an overlay of select wood to the exterior - producing the perfect door for your home.
All mechanical components are designed to support the additional weight of these unique doors. With the help of our experienced sales staff and our creative master carpenters, your carriage door will be a superb addition to your home. You choose a design and the overlay material, and let Helton Overhead Door Sales do the rest!
Cornell Rolling Steel Products
Founded in 1828, Cornell manufactures a complete line of high-quality closure products including rolling service doors, fire-rated doors and security grille products for commercial, industrial, institutional and retail use. ISO 9001:2000 certified, Cornell endeavors to provide exceptional product quality, design flexibility and superior support services to our customers.
For more information on Cornell products, click on the link to visit the manufacturer's Web site or contact a Helton Overhead Door representative at 800-766-3667.